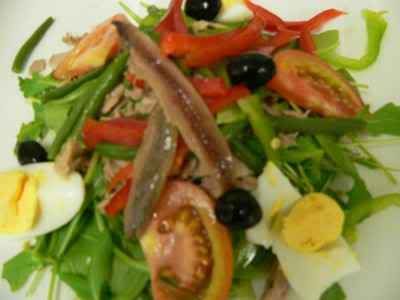 250 g potato, quartered150 g Haricot vert (green beans), rinsed, trimmed and blanched3 Tomatoes, thinly sliced3 Hard boiled eggs, quartered1 Canned tuna4 – 6 Anchovy filets50 g pitted nioise olivesLettuce or green salads
Directions
Bring a large pot of salted water to a boil.
acceptance
. Add potatoes, and cook until tender but still firm, about 15 minutes. Drain and cool.
In a large bowl, toss green salads with
vinaigrette
. Top with potatoes, olives, onion, tuna and green beans. Garnish with eggs, olives and anchovies.
Related Posts